Diversified
Diversified Technique is the classic chiropractic technique, developed by D.D. Palmer, DC. and taught in all chiropractic colleges. Diversified Technique was refined and developed by the late Otto Reinert, DC, to address biomechanical failure in each section of the spine, as it relates to specific subluxation. The focus is on restoration to normal biomechanical function, and correction of subluxation. In addition, Diversified methods have been developed to adjust extremity joints, allowing for beneficial applications in treating sports injuries and other injuries. Diversified adjusting of the spine uses specific lines of drives for all manual thrusts, allowing for specificity in correcting mechanical distortions of the spine. X-rays and case histories are used in analysis and diagnosis. No instruments are used in the adjusting procedure. Motion palpatation and full spine, hands-on techniques are used to deliver a deeper thrust, which makes an osseous (popping) sound as the adjustment is given. This technique is the most commonly used of all chiropractic techniques and is the one probably most familiar to patients.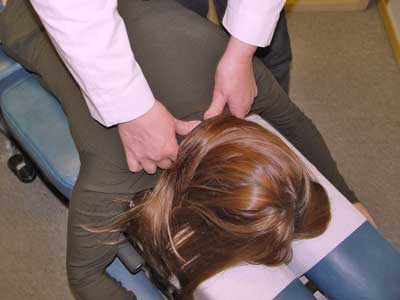 Dr. Markos applying the Diversified Technique
Logan University
www.logan.edu
www.logan.edu/prostudent/dc/chirotech/diversified.asp
---
Flexion-Distraction
Dr. Cox explains Flexion-Distraction (also known as Cox Technic), as a marriage of chiropractic principles with the osteopathic principles set forth by Alan Stoddard, DO, in his book, Manual of Osteopathic Technique, written about the manipulative procedures developed by John McManis, DO, in the early 1900's. Since the early 1970's, Dr. Cox has refined the technique, developed a manipulation instrument for effective use of the technique, conducted clinical, as well as participated in experimental, research; lectured around the world, and written well-received articles, chapters for textbooks, and textbooks.
This is a specific chiropractic technique that uses mechanical and hands-on manipulation / adjustment utilizing a special table where the spine is tractioned and flexed forward.
This technique is primarily utilized to treat cervical and lumbar disc herniations, non-disc spinal disorders, and to increase mobility of spinal joints.
Dr. Markos uses a Leander Flexion-Distraction drop table in her practice.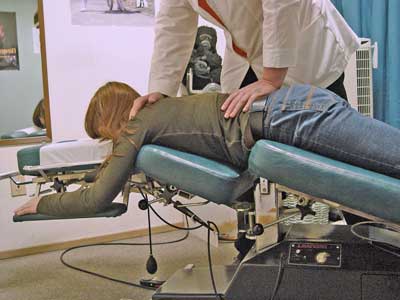 Dr. Markos demonstrating the Flexion-Distraction Technique
using the Leander Flexion-Distraction drop table
Cox Technic
www.coxtechnic.com/about.asp
Flexion-Decompression (COX) Technique
---
Sacral Occipital Technique
Sacro Occipital Technique of Chiropractic (SOT) and Chiropractic Craniopathy is grounded in scientific research. Since the early 1900's, SOT has consistently delivered exceptional results while emphasizing patient comfort. SOT is a total body technique. Its broad scope includes not only the back and neck but also the internal organs, extremities and cranial structures. In SOT the primary focus is upon structural stability and integrity as well as neurological function. The basis of the human structure is the pelvis and the cranium.
The spine, shoulders, neck and head sit upon the pelvis and are subject to the stresses and strains of gravity. These structures, as well as the rest of the body, are functionally maintained and controlled by the brain through the nervous system. Brain function is dependent upon optimal motion and alignment of the cranial bones and cranial dura. Located below the pelvis is the locomotion system: the legs and feet. All structures of the body are essential to the integrity of the whole. Additionally, organ function depends upon proper nerve supply from the spine. The spine in turn receives nerve reflexes from the organs that can compromise spinal mechanics. Therefore, the alignment, balance and optimal function of the cranium, pelvis, each spinal segment, organs and all of the extremities are essential to optimal health.
Sacro Occipital Research Society, International
www.sorsi.com
What is SOT (Sacro Occipital Technique)
---
Manual Adjusting
Chiropractic manual adjustment of the spine uses the force of a chiropractor's hands without the aid of instruments.
Manual Adjusting techniques vary from light pressure used to slowly realign vertebra to direct thrusts which quickly and audibly realign vertebrae.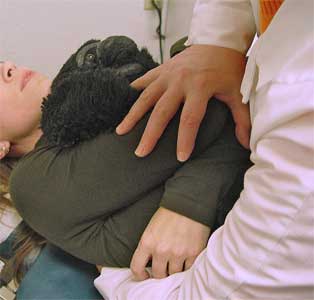 Dr. Marcos demonstrating
upper thoracic adjustment
---
Advanced BioStructural Correction
Advanced BioStructural Correction corrects body structure by focusing on areas of the body that are not self-correcting, correcting them, and then letting the body heal the rest. Bones can move out of place in a direction that the body has no muscle or combination of muscles to correct. In the spinal column for instance, if a spinal bone (vertebra) moves out of position to the left or right, there are muscles on either side of the spine that can and will pull the vertebrae back into the correct position. If a vertebra moves slightly out of place backward, the muscles that attach the front of the spinal bones to the ribs and pelvis will pull it forward into alignment. However, if one of those spinal bones moves out of place even slightly forward, there are no muscles to pull it back into place. In addition to the spinal bones, there are other areas of the body that cannot self-correct. A doctor trained in Advanced BioStructural Correction will identify those areas, adjust them and let the body do the rest. ABC does not attempt to force the body into a position. Patients find that when ABC doctors correct only the things that the body cannot self-correct, the body heals additional areas -- more than shown possible with mechanical correction.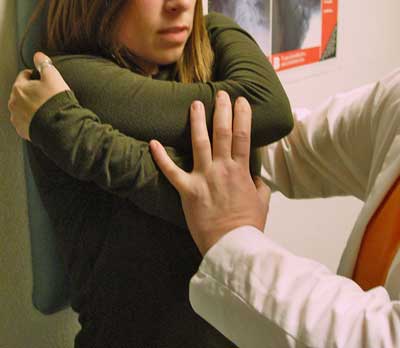 Dr. Marcos demonstrating Advanced BioStructural Correction
Dr. Jesse Jutkowitz, Advanced BioStructural Correction
www.advbiostructuralcorr.com
---
Cranial Techniques
When the spine goes out of alignment or balance, the center of gravity for the body is compromised. This spinal misalignment then causes a misalignment of the skull bones and its membranes. In order to stay balanced, the brain pressures the muscles of the spine to keep the body upright and properly centered. This skull misalignment will distort the cerebrospinal fluid flow, (fluid that surrounds the brain and nervous system) an essential ingredient for normal nerve function. In a cranial treatment, the chiropractor gently contacts the head at specific points. Either specific directional adjustments are given or rhythmic variations in finger pressure are used. The overall effect is thought to change skull, brain, blood vessel, fluid flow and/or nervous system function resulting in a normalization of, or removal of, the cause of symptoms. Cranial chiropractic is a specialty that should be considered especially for learning difficulties, tinnitus (ringing in the ear), history of head or neck trauma, difficulty hearing, headaches, migraines, and poor health. There are no x-rays or special equipment used in the application of the cranial technique. Specific gentle hand holds to the cranial bones assisted by patient respiration are done as needed for the particular misalignment. The weight of the skull and the respiration efforts of the patient, guided by specific hand holds of the doctor, allow for the correction. The adjustment restores alignment to the skull bones and membranes, normalizing fluid motion to the nervous system and providing proper nerve function for the tissues of the body.
Advanced Health and LIfe Extension
www.advance-health.com/cranial.html
---
Percussor Instrument
A hand-held mechanical adjustment device that delivers multiple small forces applied to the joints to increase range of motion. The clinical benefits of the Percussor are an increase in the amount of blood and lymphatic circulation. It's physiological effects are attributed to vibration which helps to decrease systemic nervous tension and muscle tightness or spasm.


click to view larger pictures of Percussor Instrument
---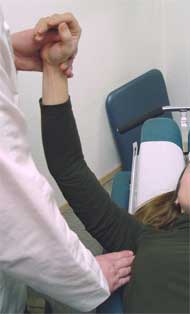 Dr. Markos demonstrating
Soft Tissue Manipulation
for subscapulous muscle-
rotator cuff injury
Soft Tissue Manipulation
Dr. Markos utilizes mulitple soft tissure techniques in her practice in order to reduce muscle spasms. Some tecniques used in the office are NIMMO, Myofascial Release, Positional Release and Myofacial Trigger Point (MFTP).
Myofascial Release focuses on stretching affected muscles.
Certain injuries, such as strains and sprains, involve muscles that already are over-stretched. In such situations, an appropriate method would be Positional Release, which involves addressing trigger points and placing muscle fibers in a position that is more comfortable for the patient. Injuries and scar tissue tend to cause distortions to muscle fiber, which contribute to the patient's discomfort.
Logan University
www.logan.edu
Soft Tissue Technique
---
Extremity Manipulating and Adjusting
Dr. Markos applying an Extremity Manipulating and Adjusting Technique for Carpol Tunnel and a Sprained ankle.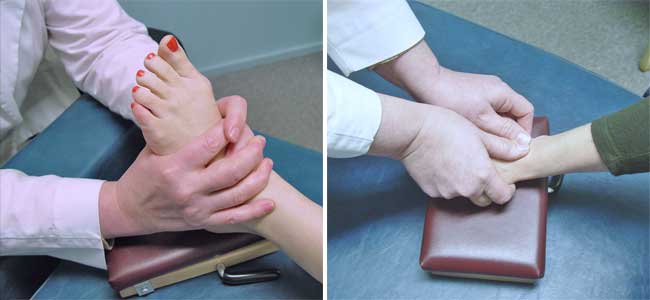 Dr. Markos applying Extremity Manipulating and Adjusting Techniques
on a Sprained Ankle and Carpol Tunnel.
Logan University
www.logan.edu
www.logan.edu/prostudent/dc/chirotech/diversified.asp
---
Activator Methods
Activator Methods utilize a small adjusting instrument to facilitate the movement of joints and reduce muscle spasm.
The activator instrument is a low force technique that can be used on newborn to geriatric patients.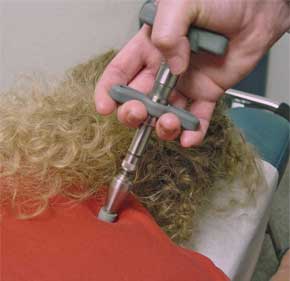 Dr. Markos applying the Activator
Logan University
www.logan.edu
www.logan.edu/prostudent/dc/chirotech/diversified.asp
---
Chiropractic Technique List
There are hundreds of Chiropractic techniques practiced under a myriad of names.
The following is an incomplete list of chiropractic techniques:
List of Chiropractic Techniques
Access Seminars
Diversified
Neuro Vascular Reflex Technique
Activator Methods
Endo-Nasal Technique
Nimmo Receptor Tonus Technique
Active Release Therapy
Extremity Technique (Ext)
NUCCA Technique
Advanced BioStructural Correction
Focalizer Spinal Recoil Stimulus Reflex Effector Technique
Olesky 21st Century Technique
Advanced Muscle Palpation
Freeman Chiropractic Procedure
Orthospinology
Alphabiotics
Fundamental Chiropractic
Ortman Technique
Alternative Chiropractic Adjustments
Global Energetic Matrix
Perianal Postural Reflex Technique
Applied Chiropractic Distortion Analysis
Gonstead Technique
Pettibon Spinal Biomechanics
Applied Kinesiology
Grostic Technique
Pierce-Stillwagon Technique
Applied Spinal Biomechanical Engineering
Herring Cervical Technique
Posture Imbalance Patterns
Aquarian Age Healing
HIO - Hole in One
Polarity Technique
Arnholzt Muscle Adjusting
Holographic Diagnosis and Treatment
Pure Chiropractic Technique
Atlas Orthogonality Technique
Homeokinetics
Reaver's 5th Cervical Key
Atlas Specific
Howard System
Receptor Tonus Technique
Bandy Seminars
Kale Technique
Riddler Reflex Technique
Barge Technique
Keck Method of Analysis
Rumpt Technique
Bio Kinesiology
King Tetrahedron Concept
Sacro-Occipital Technique (SOT)
Bio-Energetic Synchronization Technique (BEST)
Laney Technique
Soft Tissue Orthopedics (ST)
BioSET (Bioenergetic Sensitivity and Enzyme Therapy)
Leander Technique
Somatosynthesis
Bioenergetics
Lemond Brain Stem Technique
Spears Painless System
Bio-Geometric Integration
Life Upper Cervical
Specific Majors
Biomagnetic Technique
Logan Basic Technique
Spinal Stressology
Blair Upper Cervical Technique
Master Energy Dynamics
Spinal Touch Technique
Bloodless Surgery
Mawhinney Scoliosis Technique
Spondylotherapy
Body Integration
McTimony Technique
Sutter Upper Cervical Technique
Buxton Technical Course of Painless Chiropractic
Mears Technique
Sweat Adjusting Technique
Chiroenergetics
Meric System
Tensegrity Therapy
Chiro Plus Kinesiology
Micromanipulation
Thompson Terminal Point Technique
Chirometry
Mitza Neuroemotional Technique
Tiezen Technique
Chiropractic Biophysics (CBP)
Motion Palpation
Toftness Technique
Chiropractic Concept
Muscle Palpation
Toggle Recoil Technique
Chiropractic Manipulative Reflex Technique
Muscle Response Testing
Top Notch Visceral Techniques
ChiropracticNeuro-Biomechanical Analysis
MusculoSkeletal Synchronization and Stabilization Technique
Tortipelvis / Torticollis
CHOK-E System
Myofascial Technique
Touch for Health
Chrane Condylar Lift
Nambudripad's Allergy Elimination Technique (NAET)
Total Body Modification (TBM)
Clinical Kinesiology
Nasal Specific
Truscott System
Collins Method of Painless Adjusting
Nerve Signal Interference (NSI) Removal
Torque Release Technique
Columbia Technique
NerVerteBraille
Triunified Health Enhancement System
Concept Therapy
Network Chiropractic
Ungerank Specific Low Force Technique
Contact Reflex Analysis (CRA)
Neural Integration Technique
Variable Force Technique
Cox Flexion-Distraction
NeuroCranial Restructuring NCR)
Von Fox Combination Technique
Cranial Technique
Neuro Emotional Technique
Webster Technique
Craniopathy
Neuro Lymphatic Reflex Technique
Zimmerman Technique
Directional Non-Force Technique
Neuro Organizational Technique
Zindler Reflex Technique
For a list showing the percentage of Chiropractic Doctors using the various techniques and a description of the most popular techniques - see
ACA (American Chiropractic Association) pdf file listing chiropractic techniques.