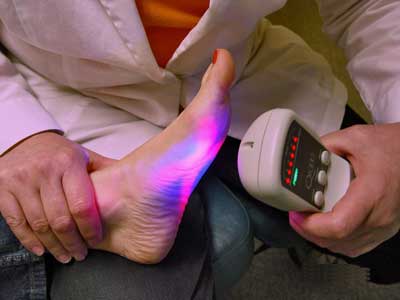 Dr. Markos using low level laser to treat Plantar Fasciitis
Chronic or Acute
Acute conditions can arise from any new injury to the musculoskeletal frame or complex. Chronic conditions may occur when an acute condition has not been resolved, resulting in patterns of compensation that may disrupt the body's natural ability to correct itself, thereby becoming a long term problem.
Our Clinic treats chronic or acute conditions. If you haven't found relief anywhere else, try North City Chiropractic Health Clinic in Shoreline WA. Large or small, birth to geriatric...we deliver personalized effective care, before or after surgery.
Motor Vehicle Accidents
Automobile insurance companies realize the many advantages of chiropractic and alternative care for injuries sustained in a motor vehicle collision. Chiropractic treatment is covered by the personal injury protection (PIP) portion of most automobile insurance policies. Regardless of fault, whether you were the driver, a passenger, or pedestrian, PIP insurance is designed to cover the treatment of these injuries.
Our office will submit the necessary insurance paper work and directly bill your insurance company. Even if you are not currently in pain, there may be hidden damage to your joints and muscles which may not manifest as a serious impairment for weeks, months or even years later. A visit to our office may end up saving you years of grief and unrelenting pain.
Call our office today for an appointment or to discuss any aspect of your post accident healing process if you have been involved in an automobile accident.
Multiple Sclerosis
Dr. Markos is recognized for her results with patients suffering from multiple sclerosis and has been featured in the Multiple Sclerosis Association of King County Contact newsletter (2001 Spring and Summer editions).
Links:
advbiostructuralcorr.com/disease/ms/ms01.htm
msakc.org/Articles/AdvancedBiostructuralCorrection.htm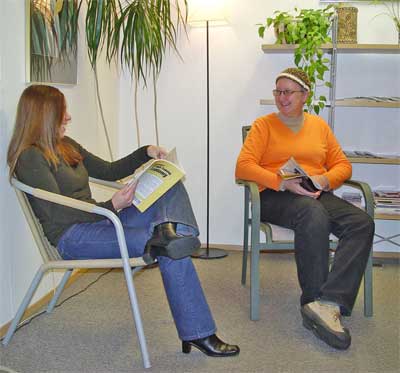 The Waiting Room
Sports
Dr. Markos has been a sports chiropractor for tennis and running competitions in the Seattle area and has treated athletes at high school, state, national, and international levels.
Community Involvement
Dr. Markos has served on the North City Business Association Board and has given back to the Shoreline and Lake Forest Park communities through neighborhood groups, classes, and organizations.
Our office has donated to the Shoreline Police and Fire departments and contributed to local canned food drives.
Office
Our office has been located in the same building since 1996 and a large portion of our patients are referred to us through word of mouth.
Features
Free and ample parking, wheel chair accessibility, private rooms, receptionist, comfortable waiting room complete with toys for kids, easy access from I-5 or Ballinger Way.
Be prepared to feel the difference.