Why Choose Chiropractic Care?
Think of a healthy spine as you would good nutrition: important for general good health but especially necessary if you are suffering from any disease or condition.
You can always benefit from a healthy spine no matter what your health status.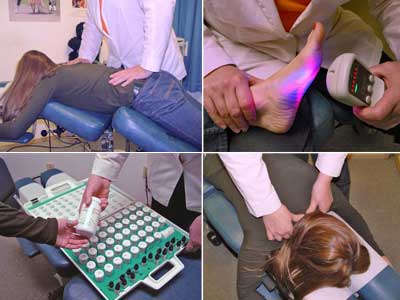 Dr. Markos administering a variety of treatments
including nutritional counseling and supplements
Improvement in Health
It's Not Just For Back Pain...
A healthy spine is essential for a healthy body.
Why?
Because the spine is the housing for your nervous system which controls the function of virtually every cell, tissue, organ, and system of the body.
When you improve spinal function, you improve nerve function which can improve the function of other body parts too.
Chiropractors believe that doctors don't heal the body. The main emphasis of chiropractic care is to correct spinal malfunctions that can cause nervous system interference.
When these interferences are reduced your body can assume its own natural healing ability.
Every day, thousands of people try chiropractic for the first time and find better health.
Misalignment of spinal bones (vertebrae) can affect your balance, spinal health, resistance to disease, posture and internal organ health. These vertebral subluxations (misalignment of spinal bones) prevent you from functioning at your best and may make you more prone to physical, emotional and chemical stress, leading to sickness, weakness, fatigue and early aging.
Call us and find out how chiropractic can help you live a healthier, pain - free life.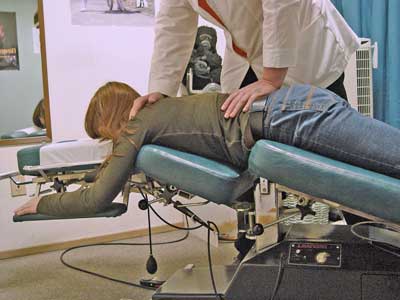 Dr. Markos applying the Flexion-Distraction Technique
Back Pain Relief
Although chiropractors care for more than just back pain, many patients visit chiropractors looking for relief from this pervasive condition. In fact, 31 million Americans experience low-back pain at any given time.
One-half of all working Americans admit to having back pain symptoms each year. Back pain is one of the most common reasons for missed work. In fact, back pain is the second most common reason for visits to the doctor's office, outnumbered only by upper-respiratory infections. Most cases of back pain are mechanical or non-organic - meaning they are not caused by serious conditions, such as inflammatory arthritis, infection, fracture or cancer.
The back is a complicated structure of bones, joints, ligaments and muscles. You can sprain ligaments, strain muscles, rupture disks, and irritate joints, all of which can lead to back pain. While sports injuries or accidents can cause back pain, sometimes the simplest of movements - for example, picking up a pencil from the floor - can have painful results. In addition, arthritis, poor posture, obesity, and psychological stress can cause or complicate back pain. Back pain can also directly result from disease of the internal organs, such as kidney stones, kidney infections, blood clots, or bone loss.
Chiropractic spinal manipulation is a safe and effective spine pain treatment. It reduces pain, decreases medication, rapidly advances physical therapy, and requires very few passive forms of treatment, such as bed rest
The Agency for Health Care Policy and Research - a federal government research organization - recommended that low back pain sufferers choose the most conservative care first. And it recommended spinal manipulation as the only safe and effective, drugless form of initial professional treatment for acute low back problems in adults.
Reference:
American Chiropractor Society